The Woman's Club of Fullerton is truly committed to making a significant difference in the lives of members of our community.  We are strong believers that to get more out of life, you must put more into the lives of others.  With that in mind, we are proud to serve our community in any way they have need.  From raising money and awareness to getting our hands dirty and helping a family in need, the WCOF looks for substantial ways we can be of service.    For more information on getting involved or submitting an opportunity for us to help in any way, contact the WCOF Info@WCOF.club

The Many Projects and Organizations To Which We Contribute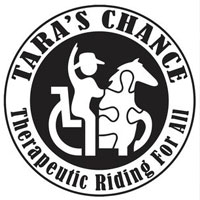 Our Charity of the Year 2022-2024
Tara's Chance Equine Therapy Program provides children with special needs the opportunity to
participate in a unique educational and therapeutic program designed specifically to help meet their physical, cognitive, behavioral and social needs through equine assisted activities and therapies. Children with autism, cerebral palsy, spina bifida, attention deficit hyperactivity disorder (ADHD), developmental delays, genetic syndromes, traumatic brain injuries,and other special needs have all benefited from the program.
Tara's Chance serves 65 individuals with special needs through two programs and provides 1,718
hours of individualized equine therapy annually. Tara's Chance serves individuals ages 3-37and 90%
of participants are between 6 and 17. Tara's Chance is tasked with a growing waiting list of 46 individuals with special needs. This wait-list has grown 100% organically through word-of-mouth testaments of our program from parents to other families in the special needs community. Currently, the average wait to join our program is 10 months 15.
Many of the charities we have been able to help with the generous donation from
Ocean Subaru of Fullerton and what the funds were/are used for:
Fullerton Museum Center (art project to include Fullerton residents)
Priority Center (3 Families' Christmas Wish Lists)
Extra Ordinary Lives Foundation (Piggie Bear Plush Toy)
St Marys Church (Feed the homeless)
Taras Chance (Help special needs children)
Joya Scholars: Non-perishable food collection and grocery gift cards.
Choc Children's Hospital (Terminally ill children holiday gifts)
The priority Center (Holiday gifts for single mothers with children under poverty)
Jump & Schout (children with autism) (IPads with software for speech generating devices (AAC) to enable a child to communicate with others.)
Boys & Girls Club of Fullerton (Gift cards, kitchen supplies & check for $3,900)
Todd Anglin Home for Children (Children's lunch meals for a month)
Mercy House ($25 Gift Cards & Personal items and Toiletries)
Monkey Business Café (Bedding, Linens, and Home Goods)
Richman elementary School (library books)
OC United (computers)
Hart charities (to purchase essentials for rooms for teens out of Foster care)
Patriots and paws (gift cards for veterans)
Spoof Dog (help spay and neuter dogs)
Assistance League (Headphones for commonwealth elementary)
Assistance League (essentials for shelter to home  clothes toiletries basic home needs)
WTLC (Womens Transitional Living Center) (Toiletries, soap, toothpaste, and tooth brushes.)
Commonwealth School (Headsets)
FLOCK (Computers for homeless high school students.)
Homeless Intervention Services of Orange County (HomeShare Program.) 
Wound Walk (Medical Supplies, bandages, antibacterial gauze, pads, etc. for unsheltered individuals.)
YMCA  (Senior Gym Equipment)
Below is a list of the many charities we have donated to over the years.
We have been able to do this with our yearly fundraisers such as:
Bunco Boogie, Quarter Mania, Holiday Fashion Show and our Yearbook Sponsors
Oralingua School for the Hearing Impaired
Fullerton Police Department
Canine Companions
American Heart Association
Alzheimer's Association
Prevention of Domestic Violence
Comfort Pillows for Breast Cancer Patients
Crib Quilts for At-Risk Babies
Woodcrest Elementary Children's Garden
Focus on Health – Community Hiking with Hiking Friends OC
Child Guidance Center Fullerton
International Organizations